Ever considered organising your event in València?
Because it's in a class of its own. Because it offers experiences in incredible places that you can only do there. Because it's big enough to offer everything you want without being overwhelming.
Because it combines 2,000 years of history with avant-garde architecture, traditions, beaches and nature areas. And because the weather is so benevolent that every season of the year is a great time to come.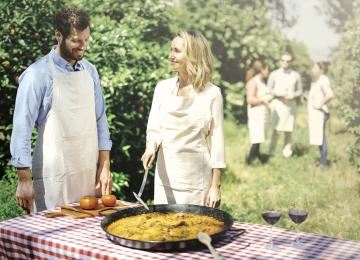 Ever made a paella as a team building exercise?
Where better than in the place that invented it? Making a paella is the perfect team work recipe, whether everyone contributes to the same end result or you get your people competing to see who can produce the best one.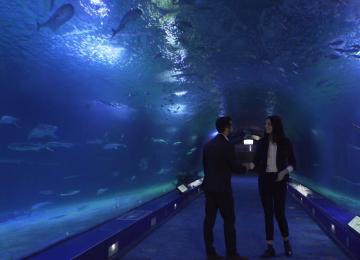 Ever switched straight from a presentation to an underwater route?
Host your event at Oceanogràfic València, Europe's largest aquarium, and surprise your participants with original meeting rooms that can be combined with an underwater tour of the five oceans.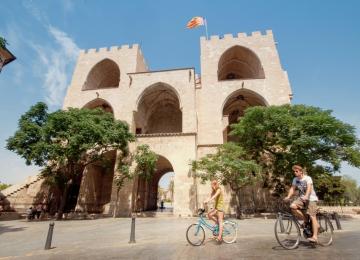 Ever ended a convention by a medieval wall?
Put the final touch to your convention with a little history. Choose one of the exclusive gastro bars that still have a section of the fortified wall that protected the city's historic centre.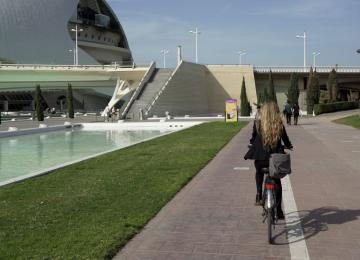 Ever arrived at an event by pedalling along a river bank?
Well, València offers that experience because the entire city is connected through 150 kilometres of bike lanes. Best of all, it's completely flat so you'll arrive at your destination as fresh as when you left the hotel.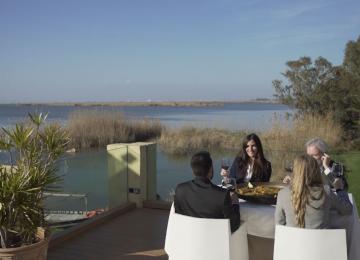 Ever held a committee meeting in a nature reserve?
Why limit yourself to closed rooms? A boat trip, rice fields and unique landscape. That's what you'll find at l'Albufera Nature Park, an ecosystem with extraordinary flora and fauna just 10 kilometres from the city.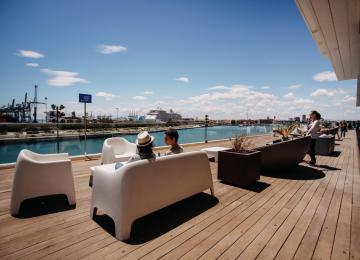 Ever swapped air conditioning for the sea breeze?
Good weather is one of València's added values: an average temperature of 17º and more than 300 days of sunshine, plus the privilege of the breeze that blows in from the east over our coast.
TESTIMONIALS
What our visitors to Valencia say
València is a very nice destination, and holding a conference there is quite a good choice as well. The congress centre has excellent conditions, and the team there is very helpful and dedicated to make all things work smoothly.
The surroundings of the congress centre have a number of hotels within walking distance for a couple of minutes, which makes it quite convenient. And the city itself has a good number of motives to visit, ranging from the old town to the city of arts and science. I've been to València a number of times, and I'm a fan.
Prof. Luis M. Correia
Instituto Superior Técnico - University of Lisbon
IEEE International Symposium on Personal, Indoor and Mobile Radio Communications –PIMRC
A few years ago I was invited to València for a site inspection and was immediately convinced of its possibilities as a conference destination. The ESSHC (European Social Science History Conference) 2016 edition was organized at the Medical Faculty of the University of València and both organizers and participants are equally enthusiastic about the city and the venue. Our plenary meeting and reception at the Palau de la Musica was the cherry on top. With the old city centre, the Turia gardens and the city of arts and sciences València is a great mix of old and new. The team of the València Convention Bureau was of great assistance and their help has been invaluable for the organization of our conference.
Elisabeth Hiemstra-Kuperus Ma
Organizer European Social Science History Conference - ESSHC
València offers all the infrastructures needed to organize a Congress: a modern and ergonomic congress center, hotels reachable by walking distance and a very helpful Convention Bureau.
A lot of qualitative activities can be proposed for the accompanying persons thanks to the rich cultural heritage of València.
Besides, the city of València is very pleasant, thanks to the very nice weather, and its beautiful historic center.
Charlène Champeau / DESTINATION PLUS France
Congress of the International Association of Lawyers -UIA
On behalf of the EDTNA/ERCA Executive Committee I would like to thank you and all partners or your Convention Bureau very much for your collaboration and support of the 45th EDTNA/ERCA International Conference in València.
The Conference was a great success and the Conference participants were satisfied with the organization. Your Conference services met our expectations.
Ana Martí / EDTNA
Congress President 2016
---
Valencia Convention Bureau Campaing